Numenorean
To which race of Middle Earth do you belong?
brought to you by
Quizilla
My pirate name is:
Dread Pirate Flint
Like the famous Dread Pirate Roberts, you have a keen head for how to make a profit. Like the rock flint, you're hard and sharp. But, also like flint, you're easily chipped, and sparky. Arr!
Get your own pirate name
You are Sam the Eagle.
You are patriotic and devoted. And extremely anal.
HOBBIES:
Patriotism, Being appalled at what everyone else is
doing.
FAVORITE MUSIC:
The National Anthem of America
FAVORITE MOVIE:
"An American In....America"
LAST BOOK READ:
"Men are from Mars, Women are from Venus,
Eagles are from America"
QUOTE:
"Please stop that now! It's un-American!"
What Muppet are you?
brought to you by
Quizilla
You Are Cupid


A total romantic, you're always crushing on a new reindeer.



Why You're Naughty: You've caused so much drama, all the reindeers aren't speaking to each other.



Why You're Nice: You have a knack for playing matchmaker. You even hooked Rudolph up!

Which of Santa's Reindeer Are You?


Which OS are You?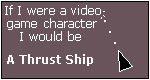 I am a Thrust-ship.


I am small and tricky - where you think I am, I probably am not. I can work very fast, but I tend to go about things in a round about way, which often leaves me effectively standing still. I hate rocks. Bloody rocks. What Video Game Character Are You?

You scored as Kaylee (Kaywinnet Lee) Frye. The Mechanic. You are a natural mechanic, and you are far too sweet and cheerful to live out here. How you can see the good in everyone around you boggles the mind occasionally. Still you don't seem to be any crazier than that, and it is a nice kinda crazy.



| | | |
| --- | --- | --- |
| Kaylee (Kaywinnet Lee) Frye | | 75% |
| Simon Tam | | 69% |
| Zoe Alleyne Washburne | | 63% |
| Shepherd Derrial Book | | 50% |
| River Tam | | 50% |
| The Operative | | 50% |
| Inara Serra | | 44% |
| Hoban 'Wash' Washburne | | 38% |
| Jayne Cobb | | 38% |
| Capt. Mal Reynolds | | 13% |


Which Serenity character are you?
created with QuizFarm.com
You Are Not Scary


Everyone loves you. Isn't that sweet?

Goe, hooray self-promotion!